Noel Ryan, Ordination as Permanent Deacon 4th June 2012

Ordination of THE FIRST Permanent Deacons in the Irish Catholic Church
THE FIRST Permanent Deacons in the Irish Catholic Church were ordained in Dublin on the 4th June 2012 by Archbishop Diarmuid Martin.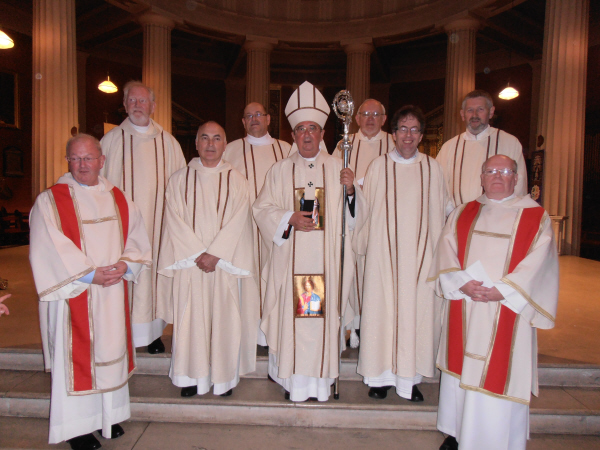 The eight Dublin men ordained at the Pro-Cathedral are: Eric Cooney from Monkstown, Gabriel Corcoran from Dundrum ,
Gerard Larkin from Templeogue; Gerard Reilly from Donaghmede, Jim Adams from Donnybrook, Joe Walsh from Lucan,
Noel Ryan from Ballinteer (extreme right in back row) and Steve Maher from Malahide. All are married except Mr Walsh.

Noel studied for the Permanent Diaconate at Mater Dei Institute in Clonliffe College
and he also undertook a practical training programme in Ballinteer Parish
under the guidance of Fr Richard Behan, Moderator.

Their ministry will be voluntary and part-time. They can now assist priests at the celebration
of the Eucharist and celebrate Baptisms, as well as officiate at Marriages and preside at Funerals. The Deacons will also visit the sick, prisoners and the bereaved and promote awareness of the social teaching of the church.

Seven other dioceses around the State have permanent deacons in formation.
Permanent deacons are reasonably common in other parts of Catholic Europe.
The deacons will work in parish teams alongside priests and lay parish pastoral workers.
Four years ago, Dublin was also first in Ireland to train and appoint pastoral workers.
Today there are 12 men and 20 women in such roles throughout the archdiocese.
They help to deepen knowledge of faith and support initiatives around prayer and the sacraments.
The eight Permanent Deacons with Archbishop Martin following their ordination. Please click below to read Archbishop Martin's Homily from the Ordination Ceremony

Role of Permanent Deacon (PDF document)
Rev Noel Ryan
Permanent Diaconate

Please click below to read about their three year formation programme
and their declared acceptance to the Permanent Diaconate Formation Programme